Self-Tapping Inserts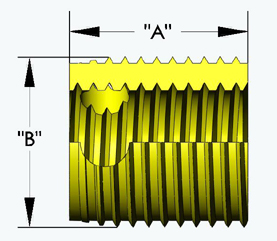 Our self-tapping inserts are dual threaded inserts that cut threads as they are inserted. The leading threads insert cleanly to ensure that the insert is set straight and provides the maximum pull-out resistance.
Our 303 stainless self-tapping inserts are easily installed in soft metals and plastics.
Unhardeded and plated steel inserts are also available for installation in soft metals and plastics.
Our hardened and plated inserts are usually installed in steel and stainless steel.
Aluminum inserts are available but pricing is not listed, please call.
The inserts can be installed with automated installation equipment. Entry hole is usually established by experimentation and depends on the hardness of the surrounding mateial. For a perfectly flush installation, a small chamfer is needed at the top of the entry hole.
If you need inserts that are not priced or shown here, please contact us.
| Material | Int. Thread (2B) | "A" (in.) | "B" (in.) | Price/pc. Qu. 500 | Price/pc. Qu. 1,000 | Price/pc. Qu. 2,000 | Price/pc. Qu. 5,000 |
| --- | --- | --- | --- | --- | --- | --- | --- |
| 303 SS | #10 UNC/UNF | 0.297 | 0.297 | | | $0.38 | $0.34 |
| 303 SS | 1/4″ UNC/UNF | 0.484 | 0.375 | $1.15 | $1.00 | $0.90 | $0.85 |
| 303 SS | 5/16″ UNC/UNF | 0.562 | 0.469 | $1.25 | $1.15 | $1.10 | $1.00 |
| 303 SS | 3/8″ UNC/UNF | 0.687 | 0.563 | $1.80 | $1.75 | $1.55 | $1.40 |
| 303 SS | 1/2″ UNC/UNF | 0.906 | 0.734 | $2.00 | $1.90 | $1.80 | $1.60 |
| 303 SS | 5/8″ UNC/UNF | 1.125 | 0.906 | $2.80 | $2.20 | $1.90 | $1.75 |
| 303 SS | 3/4″ UNC/UNF | 1.375 | 1.078 | $3.10 | $2.80 | $2.35 | $1.95 |
| | | | | | | | |
| 12L14 hardened w/ zinc dichrmt | #10 UNC/UNF | 0.297 | 0.297 | | | $0.39 | $0.35 |
| 12L14 hardened w/ zinc dichrmt | 1/4″ UNC/UNF | 0.484 | 0.375 | | $0.56 | $0.53 | $0.50 |
| 12L14 hardened w/ zinc dichrmt | 5/16″ UNC/UNF | 0.562 | 0.464 | | $0.77 | $0.74 | $0.68 |
| 12L14 hardened w/ zinc dichrmt | 3/8″ UNC/UNF | 0.687 | 0.563 | | $0.77 | $0.72 | $0.69 |
| 12L14 hardened w/ zinc dichrmt | 1/2″ UNC/UNF | 0.906 | 0.734 | $2.40 | $1.95 | $1.50 | $1.20 |
| 12L14 hardened w/ zinc dichrmt | 5/8″ UNC/UNF | 1.125 | 0.906 | $2.90 | $2.30 | $2.00 | $1.70 |
| 12L14 hardened w/ zinc dichrmt | 3/4″ UNC/UNF | 1.375 | 1.078 | $3.15 | $2.52 | $2.35 | $2.15 |